KS2 Reading
At KS2, children continue to use the Oxford Reading Tree scheme to read and further understand a wide range of genres and text types. Children will continue to work towards targets at each level of Oxford Reading Tree. These texts ensure that de-coding and comprehension skills are developed at a pace to suit each child. Readers who are more competent are encouraged to choose their own books as they work towards becoming a 'Free Reader' in Year 5 or 6.
Children are able to attend school library sessions on a weekly basis. During this time, children can experience a range of book genres, which they can read for pleasure.
In school, children read with an adult regularly. How this is done depends upon the age and ability of the child. The types of reading include individual, shared, guided and independent reading, as appropriate for the child, text and learning objectives.
In Year 5 and 6, children participate in 'Reciprocal Reading', which helps them to become more independent. Each child takes on a role within their reading group (predictor, summariser, questioner, clarifier and the 'big boss'). This reading technique fosters children's independence, understanding of texts and teamwork skills.
Children learn best when home and school work together. Parents are encouraged to hear their children read regularly at home. Parents and children can spend time enjoying a book together; not simply decoding words but discussing the text and checking a child's understanding. This will enhance a child's love of reading and improve their writing too. Top tips for reading at home can be found on our class pages on the school website.
Whole class Reading
In Whole Class Reading, there is a high level of interaction between teachers and pupils. Children are exposed to high-quality texts and discussion in an immersive environment. Texts are carefully chosen by teachers to provide appropriate challenge that builds on pupils' existing knowledge and understanding.
In the Foundation Stage and Year 1, teachers may make use of big books and texts on the Interactive White Board. Teachers model fluent reading of text which the children would often not be able to access by themselves. This allows them to explore a rich vocabulary and teach the key reading skills.
From Year 2, considerably more time is being given to whole class reading sessions (although there will still be opportunities for 1:1 reading and small group sessions). Children read during these sessions in a variety of different ways. They may hear the teacher model fluent reading and then have time to reread the same extract themselves, they may read individually or with a partner.
Response activities include: clarifying unknown words and phrases; inferring and deducting to form an opinion; predicting; explaining authors' intent; retrieving information; summarising and answering comprehension questions.
Key reading skills: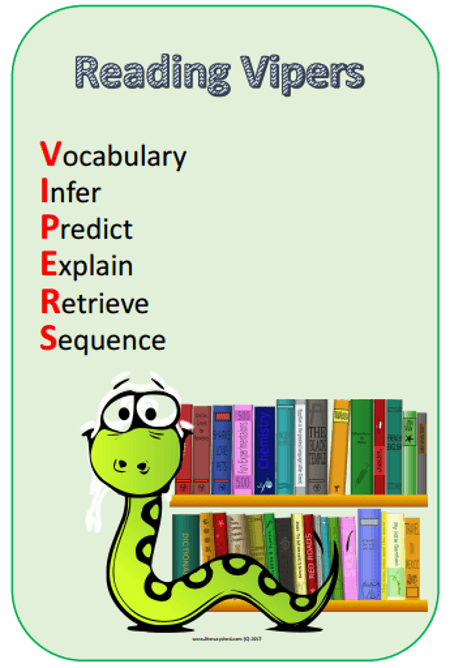 Reciprocal reading
Reciprocal reading is a structured method of whole class guided reading where children are gradually taught to take on group roles to explore and find meaning in texts. Reciprocal reading emphasises teamwork and supports independent comprehension skills. Each student is assigned a different role in the group and performs set tasks.
The Predictor asks all the readers to make predictions about the text based on information they already know. What do you think will happen? What will happen next? What will this character do now?

The Clarifier helps the group to identify confusing words, sentences and ideas. They help the group to understand the text. It can be useful to ask each reader to highlight confusing words, sentences and/or passages for discussion as soon as the reading is over.

The Summariser helps the group to identify the most important ideas in the text and what the text is mainly about. They provide a summary of the text.

The Questioner asks questions about the text. Guided Reading Questions Blooms Taxonomy could be helpful in establishing which questions to ask in order to encourage higher-order thinking.
Better Reading Stamina plus Writing
Better Reading Stamina is an intervention to support children who have fallen behind at reading. The 10-week programme with a specially trained member of staff, helps pupils to develop independent reading and comprehension skills so that they can make faster progress and catch up with their peers. Each session consists of three 30 minute one-to-one support sessions per week.
Children read three texts in every session. A familiar read that the child knows well encourages fluency and confidence. Next, they read a recently introduced text and a new text, giving the child the time and space to practise and apply their skills and to talk about their reading with an interested adult. This takes around 20 minutes and is followed by ten minutes of sentence composition and word work, linked to the child's reading or their interests.
Top Tips to support Readers at home
https://www.oxfordowl.co.uk/for-home/reading/helping-struggling-readers/top-tips-for-helping-struggling-readers-at-home/
Top Tips to help children enjoy reading
https://www.pearson.com/uk/learners/primary-parents/learn-at-home/help-your-child-to-enjoy-reading/top-10-tips-to-help-children-enjoy-reading.html